Ristorante Montana is a very special place in Maranello and the third post in my series on Ferrari. As a Schumacher fan I read about the restaurant in biographies I read about him. This is where Schumacher had his meals with mechanics from the factory. It was popular with mechanics before and drivers for decades. It is near the Fiorano race track, which I mentioned in my previous post about the Ferrari museum. Schumacher had a special relation with the owners of the restaurant, especially with "mamma" Rossella.
Besides its connections to F1, the restaurant is a really lovely place on its own. They do not have a menu, but one has to chat to the staff about their preferences. I knew about that and I didn't expect them to have vegan options, but they do. The dish we ordered is both vegan and gluten free.
As you can see, the design of the restaurant is very similar to a Swiss cottage and that is because Oscar Molinari and Laura Mattioli, the owners, decided to recreate in Italy the place they both loved working in while abroad in Switzerland.
The whole place is dedicated to F1 and there are napkins signed by the drivers who had a meal there, from Schumacher to Mansel, Räikkönen, Coulthard, Villeneuve, Massa, and many more. There are trophies and overalls and helmets. I loved it.
Two pictures of Michael Schumacher and Rossella are on display where the cash register is. There are pictures with Fernando Alonso and Sebastian Vettel too.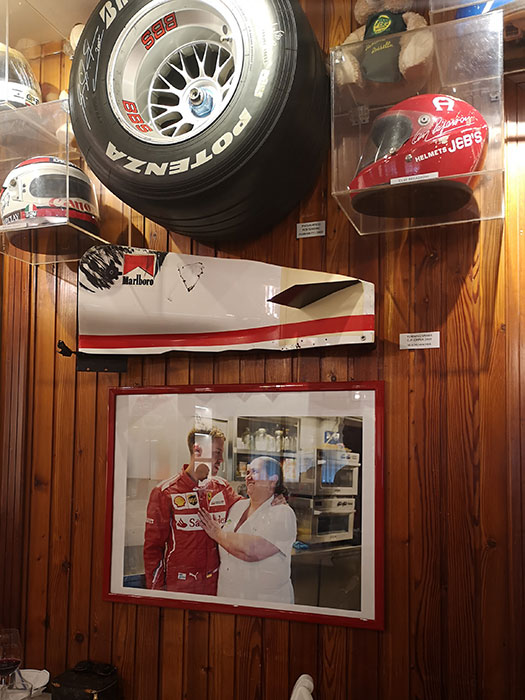 Pasta al pomodorini was delicious. I was very happy to see that we could have lunch there and not just drinks. I did not expect a vegan dish, so I was delighted to be given the option. Most pastas in Italy have eggs in them, so even if the sauce is vegan the dish is not, but they had vegan pasta, without any eggs.
We finished the meal with espresso, of course.
I highly recommend this place to any F1 enthusiast. It surely makes for an interesting experience for those who are keen on F1 either because of its beautiful decor, the friendliness of the staff, and the opportunity to have a chat about what you want to eat and not pick it up from a menu, which is rather unusual.
Were you familiar with Ristorante Montana?