My husband and I like Pizza Hut, having found memories from Romania. We've also been in Pizza Hut in Liverpool, but I didn't blog about it. So, imagine how excited I was to be asked if I want to review their new Epic pizza*. See more at www.pizzahut.co.uk/restaurants/.
I got a gift voucher in the post and I liked that, because, sometimes waiters can try their best when they know they will be reviewed. With a gift voucher they will not know I'm going to review. These days most people take pictures of their food, so that's hardly something strange to do in a restaurant.
The staff at Pizza Hut was so helpful and friendly. I was very happy, considering how busy it was. We've received the drinks fast and the pizza was made very fast too.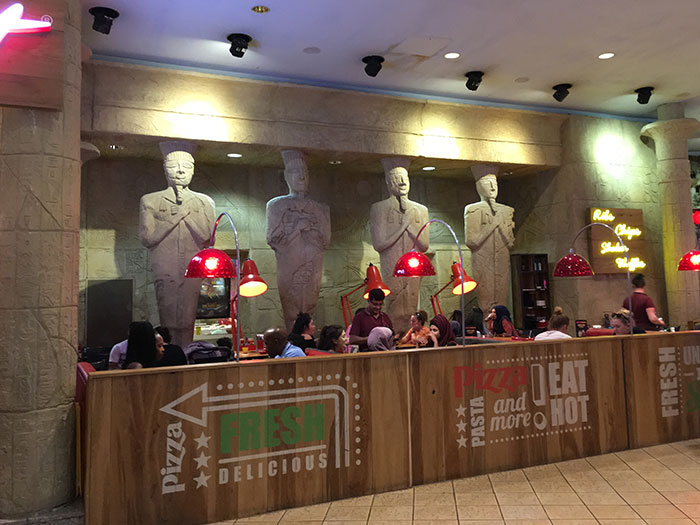 We've decided to go to intu Trafford Centre because we love the food court there. As we went on a Saturday it was so busy and buzzing with customers. It was a very nice atmosphere. It's also a lovely place to do a bit of shopping. The decor is stunning, isn't it?
The restaurant was full, but, luckily, we were given a table in less than 5 minutes. We had a look on the menu before we were sited at the table.
I've ordered a epic veggie. It has a triple cheese blend, flame roasted peppers and onions, mushrooms, cherry tomatoes, and spinach. I picked a stuffed crust because I do like stuffed crust a lot. I've also ordered a glass of merlot.
The pizza was delicious. I liked how many mushrooms it had on top. I would definitely order this pizza again. The onions and peppers were so good. It was a really great pizza.
Because my husband and I share the pizzas, he picked another one. After browsing, he decided on the heavenly veg. Heavenly veg is made with melted goats' cheese, black olives, cherry tomatoes, caramelised onions, and fresh rocket. He also ordered a J2O, his drink of choice when we goes to the restaurant, especially as he drives.
I liked the heavenly veg too, goat cheese and onions are delicious, flavours that work beautifully on a pizza.
There is also a salad bar, where customers can help themselves to salad. There is a water dispenser too. Next time we might get a pizza to share and have some salad too. They also offer unlimited refills for a few fizzy drinks, just pay for a glass and get as many refills as you want. We are not keen on fizzy drinks, so we got only water from the dispensers.
I said earlier that we were lucky to get a table in a few minutes. This was the queue when we left. With the restaurant being that busy, I couldn't take pictures inside, as I didn't want to disturb the other customers.
*I was offered a voucher to pay for the meal. All opinions are my own.