With the beautiful warm weather we have now, you might be surprised that I'm talking about my new pairs of ASOS Boots. Well, I just bought them and I wanted to share my finds on my blog. It's been a while since I've made my last fashion blog post. I wanted to order these before going to London, but they would have arrived while I was away, so I've postponed purchasing them until I got back. I received my order a few days ago and I'm delighted with both pairs of boots.
If you've been following my blog for a long time, it will not come as a surprise that I'm found of high heels. Both of these ASOS boots are still available on their website and are still on offer, if you fancy one for yourself.
With online orders it can be a hit&miss sometimes, but these are fab. My previous order from ASOS was not good, I had to return half of it because they weren't as good I thought they will be (clothes, not shoes). But their shoes are good, I've had ASOS boots and shoes before and they were comfy and long lasting. I hope these will be like the ones I had before.
These boots are ASOS DESIGN Elaina Point Lace Up. They are so me, I loved the look of them when I saw them online. I loved them even more when I've tried them on when I received my order. They look like they will be a delight to walk on, as the ankle is nicely tied in them. At the moment these are £20 and this is the price I paid for them around 10 days ago, when I've placed my order.
The heel height is 11cm, a bit more than I usually wear. I tend to get around 10cm heels, but they seem comfy. These came with black laces as well, but I think the contrasting laces look so much better. They are not made of leather, if you are like me and you avoid buying real leather.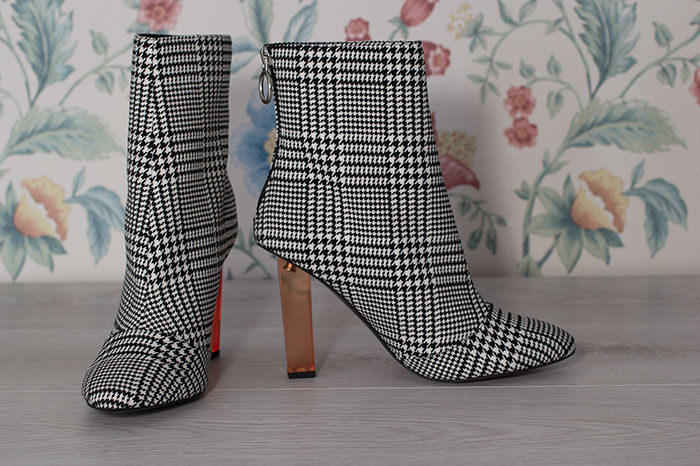 The second pair is ASOS DESIGN Electricity, still at £31.50, the same price that I bought them for. I love that transparent heel and the pattern of the fabric is gorgeous too. I had a pair of fabric boots before and they lasted a long time, about 6 years. I wasn't expecting that, as leather type boots seem more long lasting; it matters how well they are made.
These have a slightly lower heel and it is placed in a lower position than a regular heel. It will take me a few minutes to get used to them. I've walked in them at home and it's just a matter of getting used to a different kind of heel. Their look worth the effort if you ask me, especially as it will take only a few minutes.
Have you got any high heels boots recently?