A few days ago my husband and I went to an architecture themed tour. It was about the work of Alfred Waterhouse and organized by Victoria Gallery & Museum. We saw those buildings before, now part of Liverpool University and it was lovely to learn more about them.
Waterhouse was born in Liverpool and he was a very prolific architect in the 19th century. His best known design is of the Natural History Museum in London, opened in 1881. Despite me visiting both Victoria Gallery in Liverpool and the Natural History Museum in London many times, I had no idea both buildings were made by the same architect. Another famous building designed by him that I saw a few times is the Manchester Town Hall.

corner damaged during the blitz
Many of these buildings were built with funds from local wealthy people, donations that would sum up to millions of pounds in today's money.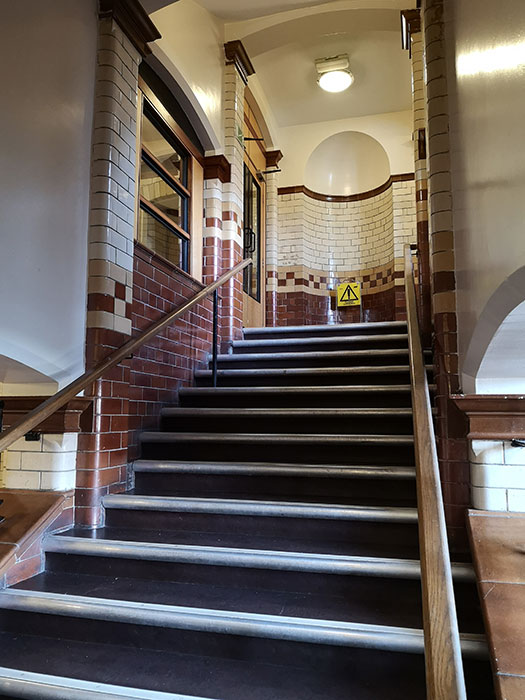 Waterhouse was involved in the design of many public buildings, including buildings for the Universities in Oxford, Cambridge, Liverpool, Leeds, Manchester. He has designed hospitals, the Royal Infirmary Liverpool and also University College Hospital London. His work also includes several bank buildings and offices for insurance companies, and, of course, some private houses too.
He loved using terracotta on his buildings and I think it's gorgeous. In his designs he was influenced by what he saw in his Grand Tour of Europe. Two of his brothers are just as famous in their fields. Edwin, was an accountant who co-founded with Samuel Lowell Price an accountancy practice called Price Waterhouse, that now forms part of Price Waterhouse Coopers. Another brother, Theodore, was a solicitor who formed Waterhouse & Co in 1865, a law firm that merged with another prominent law firm that was constituted a couple of years before Victoria started her reign. Now that law firm is called Fieldfisher and it has 25 offices in many countries and 700 lawyers.
These are original floor tiles, from the Victorian period.
We were allowed, during our tour, to have access to buildings like the old infirmary that are not usually open to the public. On the tour the guide told us fascinating things about how a good infirmary worked and the connections Florence Nightingale had with Liverpool, where she was involved in the plans regarding the infirmary, and what was considered the best layout for a ward.
On the corridors of the infirmary are pictures with nurses from the war time. The pictures show them doing different things, like attending classes, having a dance, eating Christmas dinner, or training with gas masks. The display is emotional and very well thought.
The old chapel, that now is used for events and conferences by the University. We could see it because earlier in the day there was a conference and the staff needed time to remove all the chairs, and so we were allowed in.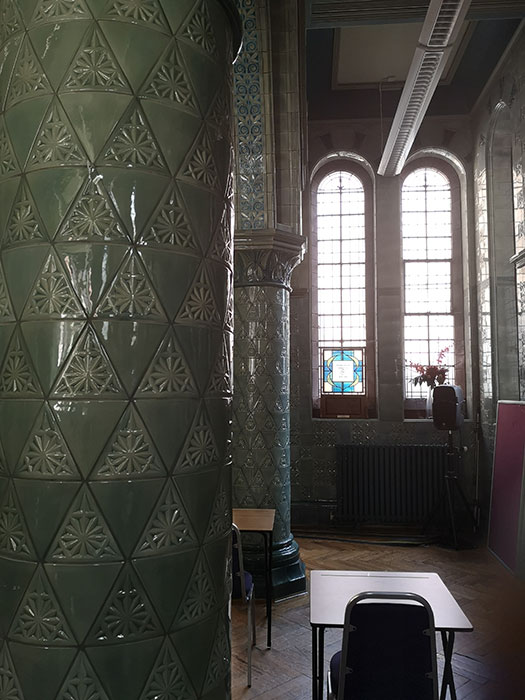 It looks splendid.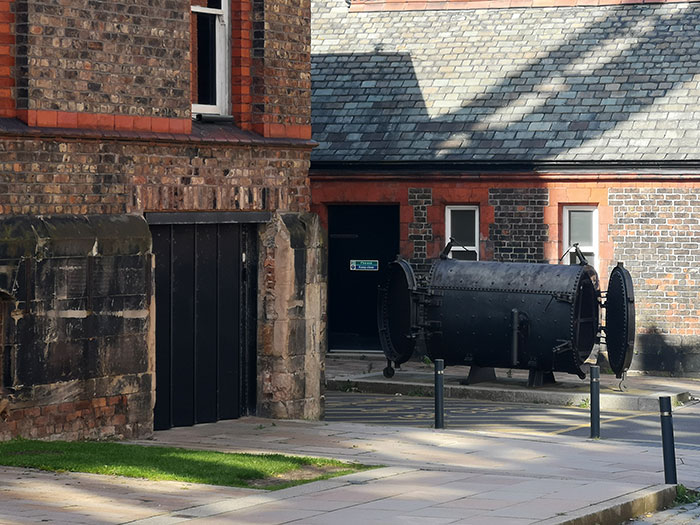 These are the tea rooms at Victoria Gallery.