My husband and I had a lovely vegetarian meal at Café Rouge at intu Trafford Centre. It was one of our anniversaries, so it was a very special day for us. Luckily almost everything was perfect.
The only thing that bothered us was a lady at a table nearby that was clapping her hands every time her child was eating a spoon of food. It was really strange, the child was so cute and had a big appetite, why was she so loud I don't understand. We asked to be moved to another table and we were told we can pick any table we want. We moved and everything was fine. Funnily enough, after we moved, two more couples with children picked tables near us. Both children were so well behaved and the parents respectful of the others in the restaurant.
We've ordered and then waited for our mains.
A celebration has to involve Prosecco. The waiter was friendly and helpful. Actually all the staff was helpful and friendly.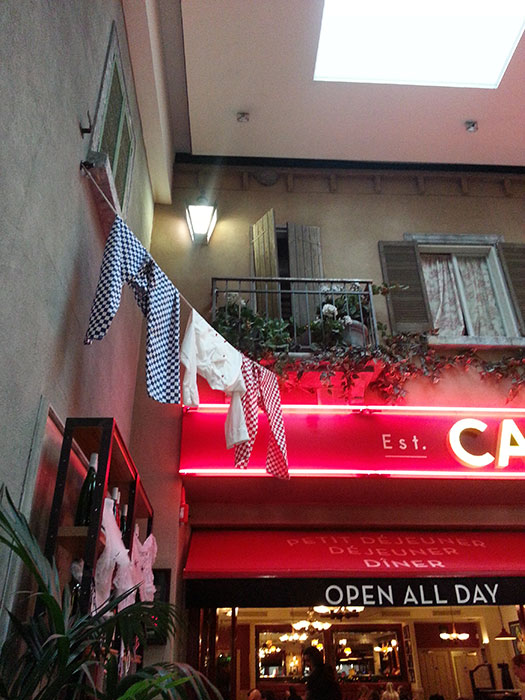 I took a couple of pictures with the decor. I love how intu Trafford Centre Food Court is decorated. The restaurants have so many details, according to the cuisine of the restaurant.
As we usually do, we shared two different dishes. There are two vegetarian options, so we got one of each.
A new dish in their menu is Tagine. A Moroccan-inspired stew with butternut squash, carrots, spinach, chickpeas and courgettes. The tagine was seasoned with ras el hanout and harissa, finished with toasted almonds and a chilli & coriander chutney. Served with spiced coriander couscous.
They mention in the menu that this recipe was inspired by our Chef's travels to the bustling spice markets of North Africa.
I loved the taste of this dish. I'm very keen on Moroccan food and flavours. I would get this dish again.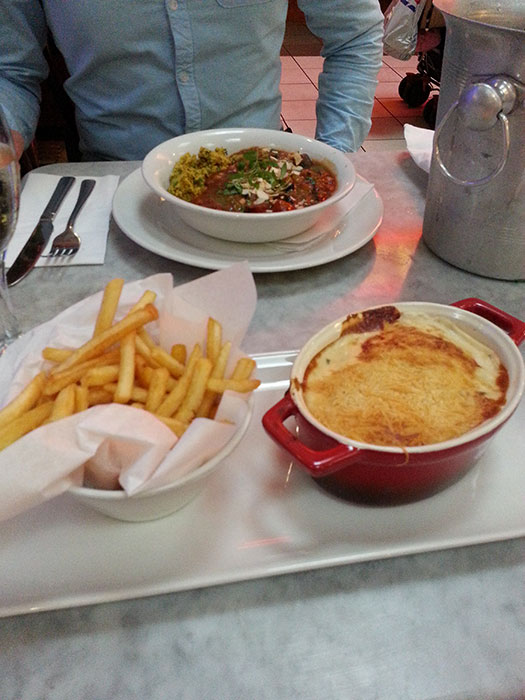 The second dish was Crepe au Four. A lovely baked crêpe filled with Portobello and chestnut mushrooms, spinach, shallots, garlic, Emmental cheese and a Mornay & cèpe sauce, with frites. Mornay is a variation of a Béchamel sauce.
For dessert, we picked chocolate; fondant aux Chocolat and Mousse au Chocolat, don't they sound amazing? I thought they would, and my husband thought so too.
Fondant aux Chocolat was a hot chocolate fondant with a melting middle. The fondant was served with chocolate & raspberry fondant ice cream. It was delicious, amazing, the freeze dried raspberry bits were great. My husband enjoyed the dessert too.
Mousse au Chocolat was a French chocolate mousse made with luxury Valrhona chocolate. While it was enjoyable and the taste was great too, the texture was not mousse-like.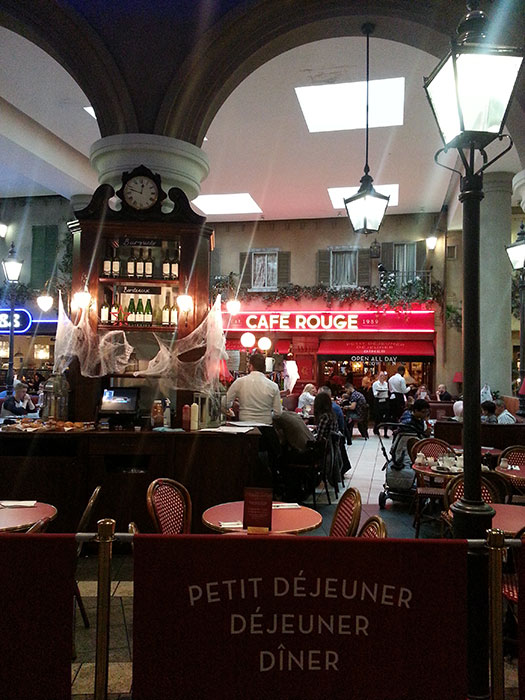 I loved the meal at Cafe Rouge. It was the first time I've been to, but I would love to have lunch or dinner at them again. The prices were good, the whole meal, including the bottle of Processo was approximately £60.
I shared a few more pictures from the restaurant and a couple from the intu Trafford Centre.
Have you been to Café Rouge at intu Trafford Centre?