Last weekend I've been to Shugborough with my husband. We've had a lovely day out and now is time to share some pictures from there. It was a sunny and warm day, perfect for a day out. There are lots of walks on the estate, but we didn't have time for long walks. We've decided to visit the mansion, the walled garden, the farm, and have a quick lunch at their restaurant.
The visit starts with the walled garden. This walled garden is the second one and it was built in 1806. I imagine it is lovely to see during the summer months.
It is still early in the year and there weren't as many plants in bloom. But it was lovely to see Molly the mower doing her job. She is very smart, goes to recharge by herself, and after that starts mowing the lawn again. She can be programmed to do patterns and a variety of cuts. She also records, using GPS, which parts of the lawn were mowed and which were not. It was a donation, no worries that the entry fees are spent on fancy pieces of technology and not conservation.
After the walled garden, we went towards the farm and mansion. People were having picnics on the grass or at the tables, while admiring these wonderful swans and a few other birds.
Next on our list was the farm.
We saw the quite impressive farm house, much bigger than I was expecting it to be. It was built by Thomas Anson as a model farm.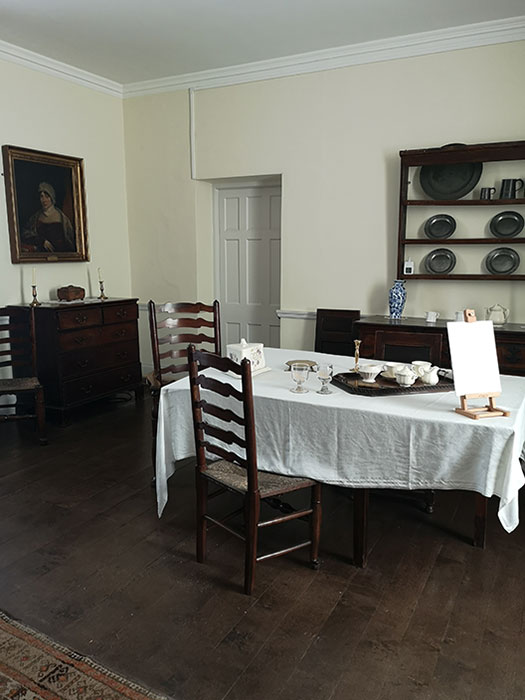 The Tower of Winds was closed when we visited, as it was a private event going on. We saw it on our way to the mansion.
At the mill is a fascinating insight into different aspects of farming… like this charming milling stool with two things used for the calves. On top is a calf collar, used to stop calves from suckling. The spikes would hurt the mother and she would move. A more "humane" option (although we can have a long discussion on what is humane and what not) is a muzzle, preventing the calf from suckling. Delightful indeed… but very important aspects to show, especially to children considering that most of them have no idea where their food comes from.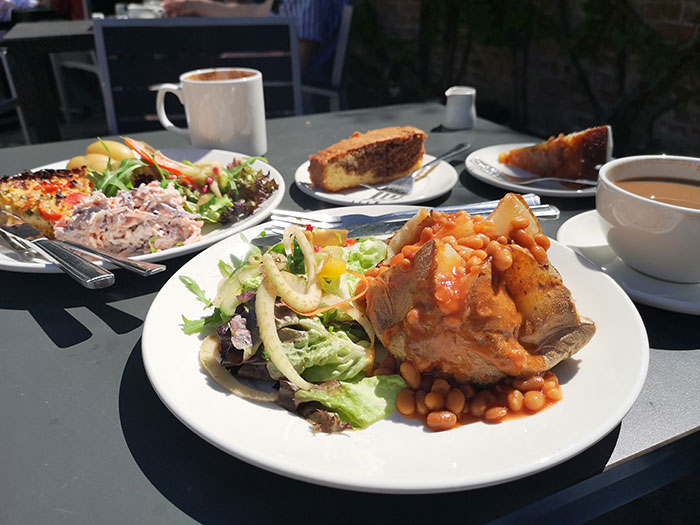 We stopped for lunch next. I asked for a vegan jacket potato and they changed the coleslaw with an extra helping of salad. It was good. My husband had a vegetarian quiche with sweet potatoes, he liked it.
I wish the staff was a bit more knowledgable about these things, as they had to ask about both dishes in the kitchen. Alternatively, a list of ingredients can be made and place it near the menu for the customers, easy and less hassle for everybody, especially when there is a queue.
We went to see the servants quarters, starting with the dinning hall where the plates on the tables suggested that the scullery maid was sitting next to the Housemaid. Maybe they were doing things a bit different and not taking into consideration the natural hierarchy of the household in a stately home, or maybe the staff from the estate thought they should mix it a bit up.
This ice cream maker must have been such a great asset for the cook.
Finally, we went to see the main home.
I loved this desk. It's just the kind of desks I like and that inspired me in designing my desk.
The libraries in stately homes are the ones I'm most keen to see. I love the rows of books.
The library and a few other rooms had this amazing ceiling. It's not Wedgwood, my husband asked about it one of the guides, but it is made at the same time as the well known Jasper pottery was starting to be crafted at Wedgwood.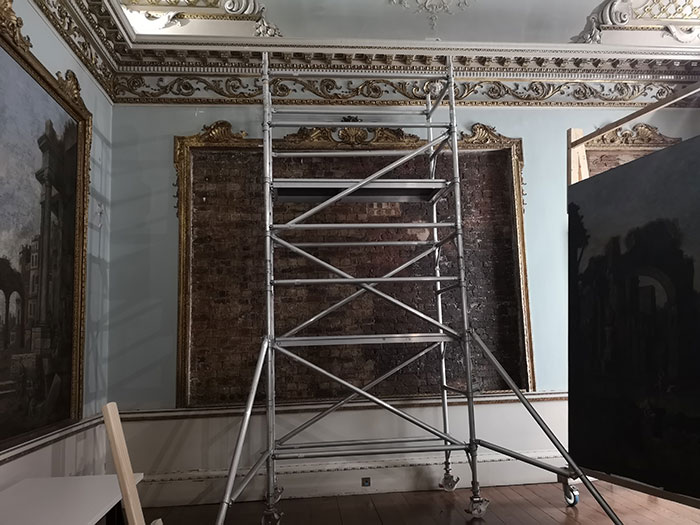 A bit of restoration is going on and it is lovely to see behind the scenes.
This is the last artefact I'm talking about, a food warmer. How amazing is that? I haven't seen something similar before.
Shugborough Estate is managed by National Trust. It is in Milford, Great Haywood, Stafford ST17 0XB. Is free for members, otherwise the price for adults is £13.60. The car park is free and big, so no worries about where you can park your car.