Saturday we went to Inglenook farm to visit the lavender farms and volunteer in the harvesting. It was a lovely day and we really enjoyed it. The staff was very helpful, eager to tell us about the lavender or about the process of making oil.
This is a poppy field near the car park.
The barn where they process the lavender to extract the oil. It was very interesting and not what we expected. We thought the oil is obtained thru pressing, but the lavender was steamed.
The oil. In a good day they can get 2L of lavender oil. It's a small quantity, but it's very concentrated. The water that results in the process is gathered in special containers and they sell it to 5* hotels or companies from the cosmetics industry.
For example, the water is bottled and put in 5* rooms from hotels in Dubai. Guests can use it as a spray to refresh themselves. The water is pure and very good for the skin.
The lavender is used as a natural fertilizer. It is threw on the field and it becomes compost very fast. So, the fields aren't fertilized with chemicals.
They have 2 small ponies I was able to pet. They were so small… not much bigger than Festus.
A lavender bush, ready for the harvest.
A baby goat. He is 12 weeks old and so sweet.
I was so happy to hold him. He wasn't very impressed, maybe because I didn't hold the carrot the right way.
This way was much better.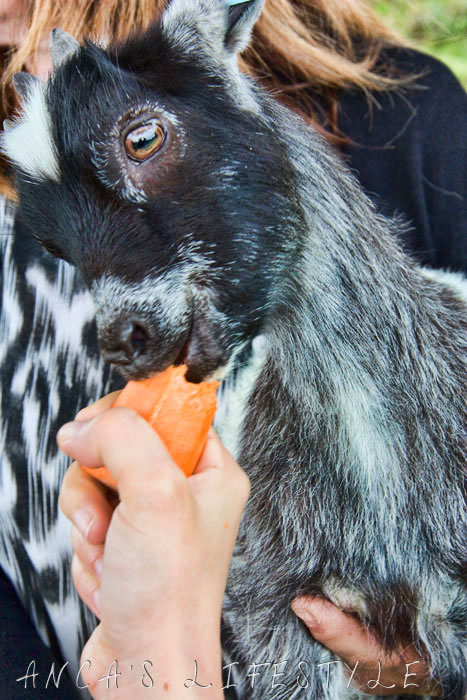 Hubby and I. A farmer asked if we want a picture, so we took advantage of his proposal.
The pony was 2-3 inches taller than Festus. It was a strange feeling to pet a horse not much bigger than my dog. The ponies were so cute and sociable. I loved them.
Me… harvesting. I was delighted to harvest the lavender. I didn't had relatives in the countryside, so everything is new to me.
The crop.