Another fab thing I did last week was to go to Flywheel Festival at Bicester Heritage*. Bicester Heritage is the UK's only centre for historic motoring excellence. It was founded in 2013 on the site of a derelict RAF base, that was marked at risk in 2008. It has 19 listed buildings and 11 areas of Scheduled Ancient Monuments. Now there are over 30 specialist businesses based at Bicester, making it the largest centre in the industry.
The first recorded flight here was in 1911, way before becoming an RAF base. So I don't think there could be a better location for the Flywheel Festival.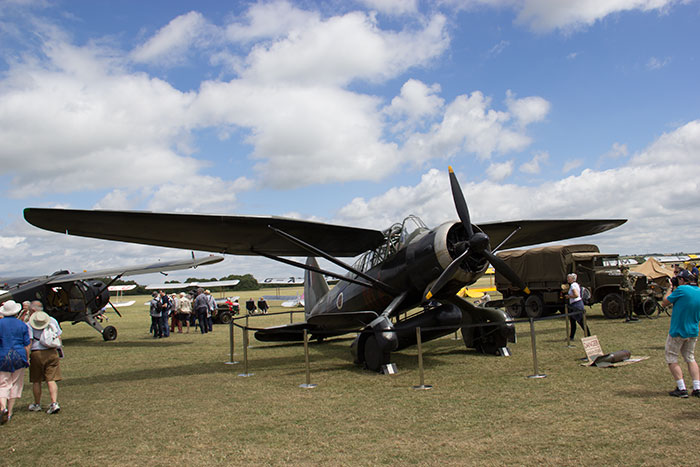 The Flywheel Festival was great, both my husband and I had a wonderful time. It took me a while to pick only a "few" pictures for this post, as I had almost 500 to choose from. I also made a 8 minutes clip with highlights of the day.
The last flying display we saw was a dogfight between a Spitfire and a Buchon Messerschmitt. Both planes were piloted by two champions of Red Bull Air Race, Paul Bonhomme and Steve Jones. When I heard the commentator saying that I was ecstatic. I watch Red Bull Air Race (RBAR) and I know them from the races. If you are not familiar with RBAR, search online, I'm sure you will find it fascinating.
The commentator said we should search on youtube two clips: Two Planes Fly Through a Hangar – Red Bull Barnstorming (same team as the one at Flywheel: Paul Bonhomme and Steve Jones) and Spitfire under bridge. Both clips are amazing, do search for them.
At the Festival there was a marque filled with vintage items. They all looked so nice. I was tempted to buy some props for my food blog.
Of course, there were lots of stands with all sort of interesting things like model cars and planes, army style clothing. Lots of things for children too.
In the Live Music Marque we listened to a few songs by The Candy Girls, a vintage style harmony trio. They are singing songs from the 30s up until the 60s. I really enjoyed it even though it's not the kind of music I usually listen to. In the clip is a part of one of their songs.
The flying displays were great too. I enjoyed all of them. They were flying in close formation at times and the commentator was telling us interesting facts about them, like when they were used, if it's the real plane or a replica.
One of the two helicopters in the Sioux/Scout helicopter pair flying display.
Besides the airplane field, there were some army style stands with old items from the wars. It was really nice to have a look at them. The ones mending the stalls were dressed in vintage army costumes. It was lovely. I also liked the soldiers, showing a glimpse of how it was like in the old days.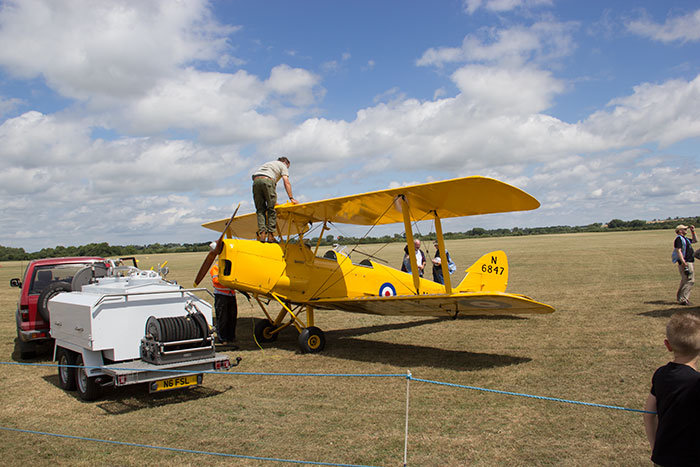 Every Festival has food stalls and this vintage tea room was lovely, very popular. Huge queue of people wanting to have a delicious cream tea. The crockery was vintage and they were different. It looked really nice.
There were other food stands, but, unfortunately, not many vegetarian options for us. Other people were having a picnic and that was lovely too.
Among other attractions were pedal powered planes for children, very cute and fun for kids. There was also a Motorcycle Wall of Death, the thing where they are driving a motorcycle in circles on the wall. Sorry, but I can't explain it better.
At one end of the field there were the tank rides. That is something really different, I haven't seen them before. They were very popular too with lots of people queuing.
Tiger 9 Aeronautical Display Team. It was very impressive.
In the Great War Display Team flying display there were planes from the First World War, most of them replicas if I remember correctly. It was an amazing flying display with sounds and fake bombs. I can't imagine how it would have been in real war.
This is an 1931 Invicta S-Type.
It might look old, but this car is just 1 year old, made in 2016. Atalanta Motors made only 22 cars in late 1930s, all with different specifications. The new cars are built to order, hand crafted from scratch, all British made. The company is based at Bicester Heritage.
A 1901 Toledo Steam Car, isn't it fantastic?
The last car I'm sharing is the 1914 Fafnir Hall-Scott Special.
* I was invited. All opinions are my own.