Pendennis Castle is a lovely castle owned and managed by English Heritage in Cornwall. It was built by Henry VIII, between 1539 to 1545, when he was concerned about invasion from the Catholic kingdoms of Europe. He improved the defense by building a few coastal forts, equipped with guns powerful enough to sink enemy warships. In Falmouth he built two forts, Pendennis Castle and St Mawes Castle, on the opposite shore.
The fort was ready for fighting a few times in the 16th century, during Queen Elizabeth's reign, in 1574, 1579, 1588, and 1596–97. In the 1596, the Spaniards wanted to land troops at Pendennis, but they were unsuccessful. During those years, Pendennis Castle had fortifications added to it.
Its defense role didn't stop. It was improved in the 1620s, and played its part during the First Civil War, when Falmouth was a port for King Charles I. In 1646 it was one of the last Royalist strongholds and around 1,000 soldiers and their dependents endured a three month siege, agreed to surrender when the food supplies ran out.
New barracks were built in the 1700s. After Waterloo in 1815, Pendennis lost the temporary buildings. But the rivalry with France meant that the fort kept its important position.
In 1885, submarine minefield was laid across the entrance, with mines that could be detonated remotely.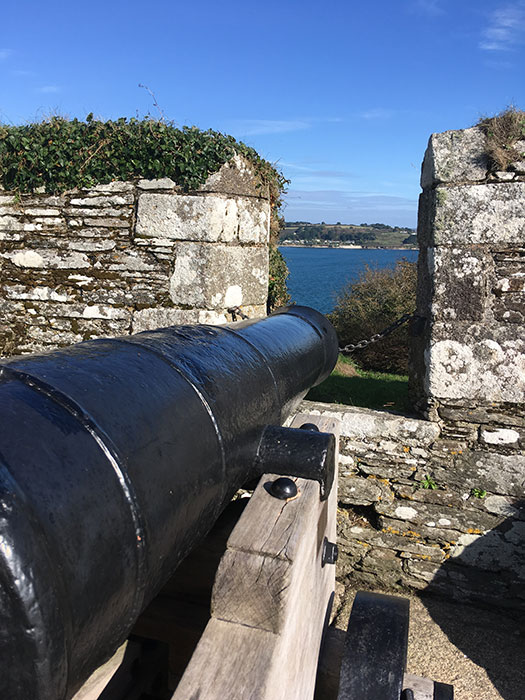 The One Gun Battery, originally installed in 1895, removed by 1913. The gun we see today on display is in the original firing position.
This is the Half Moon Battery. It was used for defense as recent as the Second World War. The guns were fixed in concrete. To conceal them, a round structure was built on top and painted camouflage. To get to the Battery, the soldiers had to pass through two tunnels, like the one in the next picture.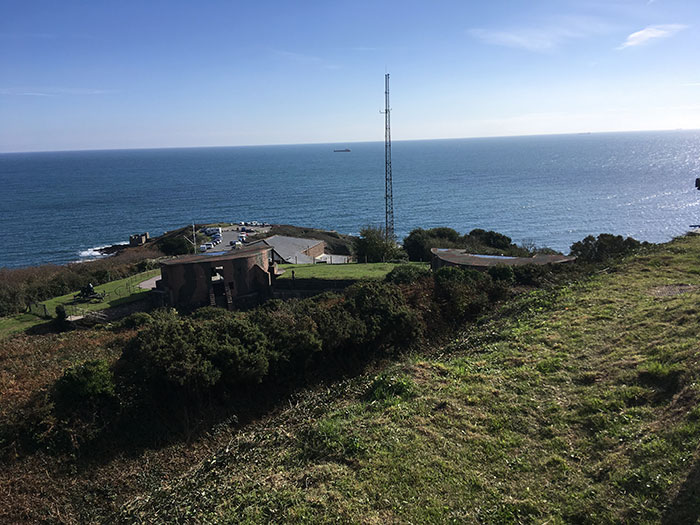 During the First World War, Pendennis was the command centre for defending West Cornwall. The Royal Navy used the anchorage for convoys, minesweepers, and anti-submarine vessels. In 1939 Pendennis resumed control of coast defences. Two power guns were used for defending.
This is the view from the Battery Plotting Room. Its role was to co-ordinate target data coming from all sources.
Pendennis Castle continued to be used for training until 1956.
This is the entrance to the War shelter, built in 1895. 16 hammocks were hanged for the gunners, so they could sleep near their gun, ready to resume their duties.
It has such an interesting shape. I would say is really unusual.
I did enjoy visiting the castle. There are many more things to see, a special exhibition, a gun exhibition, there is a nice gift shop, and tea rooms. It takes around two hours to visit if not a bit more, if you take your time to admire the views.
Pendennis Castle is in Falmouth, Cornwall, TR11 4LP. The entry fee is £10.50, free for members. There is a free car park.