This weekend a new cocktail bar opens in Liverpool, called Margaritas. I've been invited for the VIP launch party last night and I've had an amazing time. It is a Miami infused cocktail bar, specialized in Margaritas, hence the name. Fancy knowing more about Margaritas Liverpool, check their website.
Margaritas in Liverpool city centre, where is a nice buzzing atmosphere.
I've tried a few cocktails and I liked all of them. My husband, as he was driving, had the alcohol-free version of my cocktail. It was interesting to see the difference between them. I liked that his cocktails were made just as the boozy ones. Sometimes the bartenders skip on the shaking of the mocktails, as it happened to us last weekend. It's a shame, as that is part of the experience of ordering a cocktail (or mocktail), not having everything put in a glass and stir.
The staff at Margaritas were great, very attentive and we've got our cocktails fast. It made me want to go there again. The cocktails are £7.50 and some of them are on offer at 2-4-1, so the prices are very good too.
My husband had a single alcoholic cocktail, that we shared. It is called a Coronita, love the name. He said that was his favourite cocktail and that he would order it again. I can imagine that, considering that he likes Corona, and also, it looks fab. I liked the cocktail too, a bit bitter from the beer.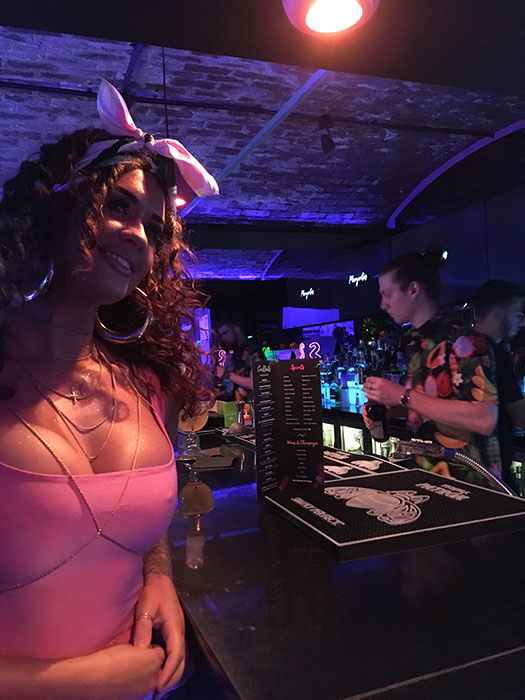 The bar looks really nice. We've stayed at the bar and the chairs were very comfortable. There are tables with sofas too.
As we were leaving, my husband saw a couple of people wanting to go in. That surely proves that it will be a success, considering the bar was not even opened to the public.
Margaritas Liverpool is on 4 Victoria Street, L2 5QA, Liverpool.