Queen's House is one of the most important tourist attractions in Greenwich, alongside Cutty Sark, the Royal Observatory, National Maritime Museum, and Fan Museum.
Queen's House has a very interesting history and on top of that, it houses a very impressive art collection. The entrance to the Queen's House is free, but check their website to make sure is open on the day you want to visit.
The architecture of the house is stunning, is worth a visit only to see that. A red-brick Tudor Palace was nearby, now is the Old Royal Naval College. In the Palace of Greenwich Elizabeth I was born.
The Queen's House was a gift from James I to his Queen Anne, as an apology for swearing at her, when she accidentally killed one of his hounds during a hunt. Work to the house, designed by Inigo Jones, began in 1617, but was stalled by 1619, when Queen Anne died. Charles I gave the manor to his queen, Henrietta Maria in 1629, and work resumed after three years. The house was completed in 1638. Henrietta Maria filled the house with artwork, but the Civil War broke out and Greenwich was held by Parliamentary forces. They sold the art collection. When Charles II was restored to the throne he extended the House in 1662. Henrietta Maria moved to Somerset House and Queen's House was transformed into grace and favour lodgings. Here were housed Huguenot refugees from France, the first Astronomer Royal, and Jane Middleton, one of Charles II's mistresses.
The house was made into the residence of the Ranger of Greenwich park. In the 1790s Queen's House is where Caroline of Brunswick was received, before her marriage to George IV. In 1806 George III granted Queen's House as home for orphan children of naval seamen killed in Anglo-French wars. Around 20 years later it was combined with Greenwich Hospital School.
In 1934 Queen's House became part of the National Maritime Museum, with King George VI opening the museum in 1937, reopened in 1947 after WWII.
Queen Anne's of Denmark painting is near the one of her husband's James I (next picture), very appropriate that both paintings are on display at Queen's House, isn't it?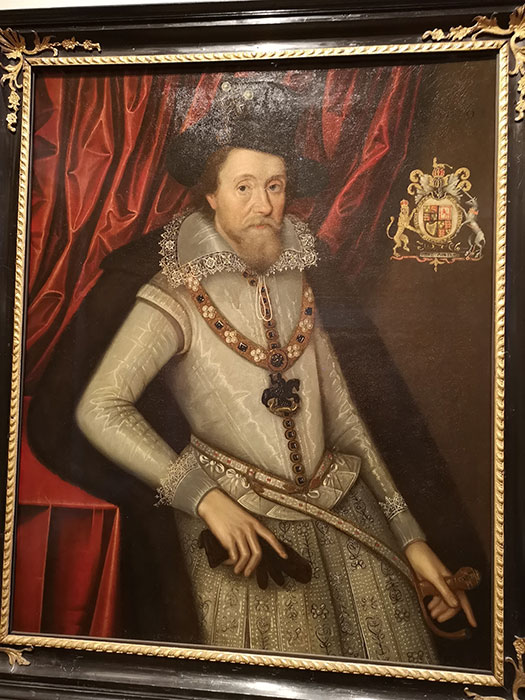 From the collection I picked two paintings that caught my eyes, besides the ones of Royalty I mean. This is called Davy Jones's Locker and it was painted by William Lionel Wyllie in 1890. I haven't seen an underwater painting from the 19th century before. How extraordinary accurate it is. Wyllie did some diving to study from life. He used a diving helmed made from a biscuit tin.
Withdrawal from Dunkirk, June 1940 by Richard Eurich, a gorgeous painting of an important historical event. He did research to make the painting as realistic as possible. The Navy used this painting for their Christmas cards in 1940.
Now, the pièce de résistance, the Armada portrait. I was so excited to see the portrait. I've seen it so many times before in TV shows, but it was the first time I've seen it on display. It's marvellous. It was also very popular.
Elizabeth I was almost 55 years old at the time the Armada tried to invade England in 1588. The painting is made in a way that Elizabeth appears ageless, the "Mask of Youth".
The Mask of Youth, designed by artist Mat Collishaw. The mask is animatronic and it is quite fascinating in itself. In the museum is placed opposite of the Armada painting and it is a very effective way of showing it.
Have you been to Queen's House?