At Quarry Bank Mill in Manchester was organized a Victorian May Day. I mentioned on my blog that I should have been Victorian and I was so keen on attending the event. We had some things to do before leaving, so we've arrived at 11.10. Obviously, we had to park in the overflow car park as is was so crowded. The event was spread out on the lawn, so we managed to have a look at everything.
We were greeted by two Victorian ladies who handed us a leaflet with the activities for the day.
He was explaining to the children the role of atmospheric pressure in an engaging way.
On the lawn there were a lot of activities for kids and a few stalls with jacket potatoes, ice cream and fudge. We had a look at everything and head up to the terrace.
There was a stall with dresses and capes and hats. But they were for children and we were able to try on only the hats. Hubby went for his hat of choice: top hat and I got a day hat with flowers, perfect for a May Day.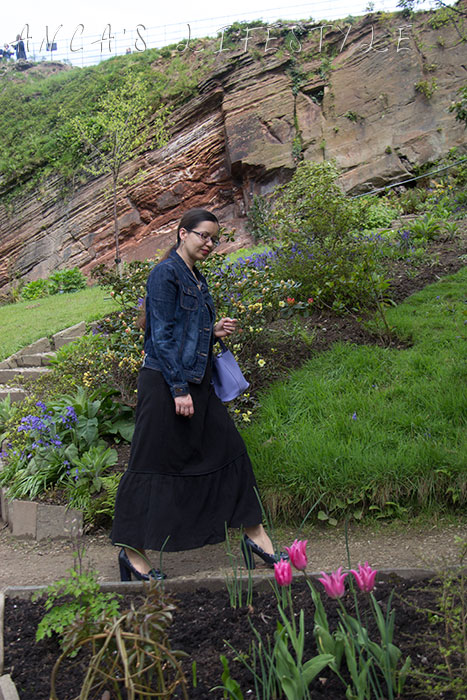 This is the lawn with the Punch & Judy show, the costumes and the wooden toys. On the other side there were the other activities, the Maypole and food stalls.
We've got a good place to see the Punch & Judy show and waited for it to start. It was funny, mostly for kids, but there were a few grown up jokes too.
After the show we've tried the wooden toys. Most of them looked harder to manage than one would think.
It was so difficult to keep it in balance.
With this toy I managed to hit myself in the head and I stopped when I was about to hit someone else.
I've had such a sense of achievement when I (finally) managed to get the ball in the cup with the smaller one.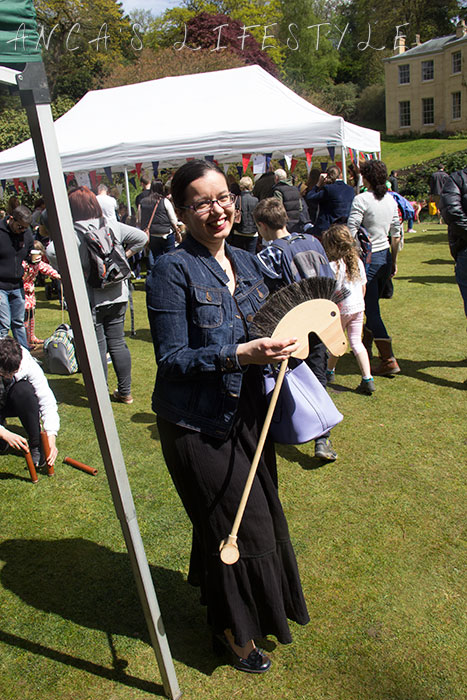 I didn't try the horse, but I have to admit I thought about it.
I wanted to see the Maypole dancing for years. I've read about it many times in my books. I didn't expect to be able to see it, before reading about the event at Quarry Bank Mill on National Trust's website. I loved it.
Do you attend May Day events? If you blogged about them, leave me a link so I can have a look.