Lizard Point and Kynance Cove look incredibly different, despite being very close to each other. Both are also very close to Gunwalloe. Both places are owned and managed by National Trust.
All the pictures were taken on the same day, at approximately 1 hour from each other. It's quite incredible how much difference a bit of clouds can make. I'm a bit unsure which set of pictures I prefer best. The ones at Kynance are darker, a bit gothic if I can say that.
Lizard Point is the most southern point in mainland UK. It is an amazing place to see, with gorgeous views. It's also a place where many ships have wrecked. The rough coast of Cornwall, with those beautiful rocks, meant a lot of ships sunk due to being blown into the rocks.
This picture is taken from inside the disused lifeboat building. You can see the slipway on the right, and Polpeor Cove is a bit further to the right.
At Lizard Point there a few gift shops and an wildlife observation post. I didn't take my binoculars with me, as I always keep forgetting to pack them in my luggage before leaving home. There was a big binocular focused on a breeding colony of birds. Don't know exactly the type of bird. It was nice to see them though.
This is Polpeor Cove mentioned before. Here my husband managed to get his feet wet.
I was beside him and when I saw the wave approaching, I ran back. He didn't, but that meant he purchased some cute bamboo socks from one of the gift shops. I imagine he will remember the holiday next time he will wear the socks, so I'm a bit upset I don't have my must-get-dry-socks socks from the holiday.
There is a lighthouse at Lizard Point. There was an hour waiting time for a tour, so we've decided not to visit it. Maybe next time when we are going to visit Cornwall.
Next stop on our list was Kynance Cove. This is another filming location for Poldark.
Where you can see that rough water is actually a gorgeous beach during low tide, where Poldark was filmed. On the other side is a lovely cafe.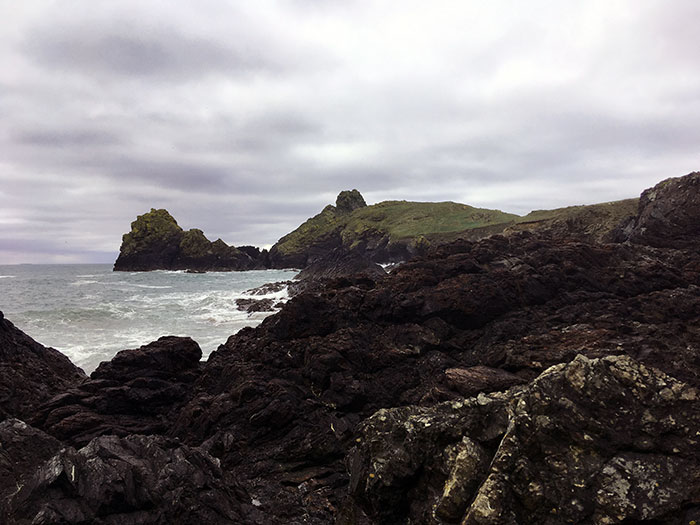 Lizard Point is in The Lizard, near Helston, Cornwall, TR12 7NT. There is a pay and display car park, but free for National Trust members. You can use the same car park for the Lighthouse.
Kynance Cove is in The Lizard, Nr. Helston, Cornwall, TR12 7PJ. It has its own pay and display car park. As the other one, it is free for members. Kynance in on the South West Coast Path approx 2.5 miles walk from Lizard Point. It means you can get to it on foot if you fancy the walk.