I've been to Frodsham, a small market town in Cheshire a few weeks ago, but only now I was able to squeeze the post about it. I mentioned Frodsham before, when I reviewed The Queen's Head, the 17th century pub we had lunch that day. In Frodsham there are lots of lovely places to have a drink or a meal, a beautiful park to walk in and an Art Gallery.
Another interesting thing about Frodsham is that it was a filming location for Far From the Madding Crowd, a great movie I saw last year. Other movies filmed there are Hollyoaks, Merseybeat and Robin Hood.
I've visited the gallery and I liked the pieces on display. Some of them are for sale, so I've decided not to take pictures inside as I wasn't sure about the copyright. The Castle Park Arts Centre has its own parking and there is a lovely tea room.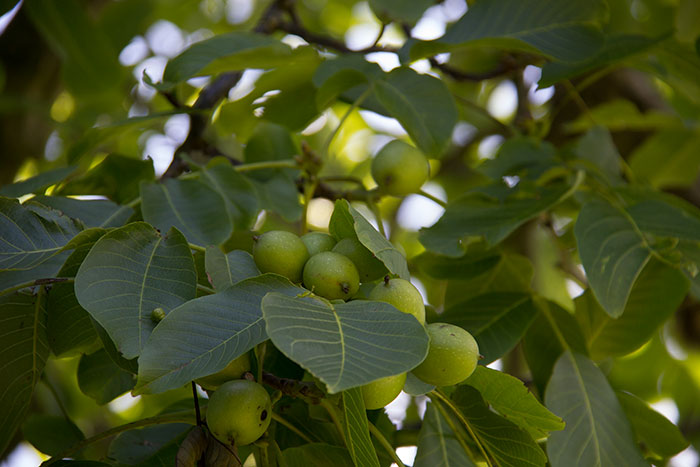 Outside the art centre is the park. It's lovely on a warm day, there is a garden and a playground for children. There is also plenty of beautiful cut grass where you can have a picnic or just relax. I spotted this walnut with green walnuts in it. Some of the trees have plaques with their names, a nice touch.
The woodland walk with lots of squirrels jumping around is just great. There are a few benches if you want to sit and enjoy the tranquility. The squirrels shouldn't be fed as they have a lot of food and they would pester visitors if they know they bring food.
The town is stunning. While nearby are the relics of an Iron Age fort, the roots of the town can be traced back to Medieval times, as it was mentioned in the Domesday Book in 1086. It was an important port for coast trade, mainly due to exporting Cheshire salt. The Castle Park, now the Art Centre I mentioned earlier, is the place where the castle was in 14th century.
A market was established in 1661, continuing to this day every Thursday. Only recently Frodsham acquired the status of a town, before 1992 it was a village. That happened as 3,500 people moved to the village in the 60s and 80s, raising the number of the people living in the town to 9,000.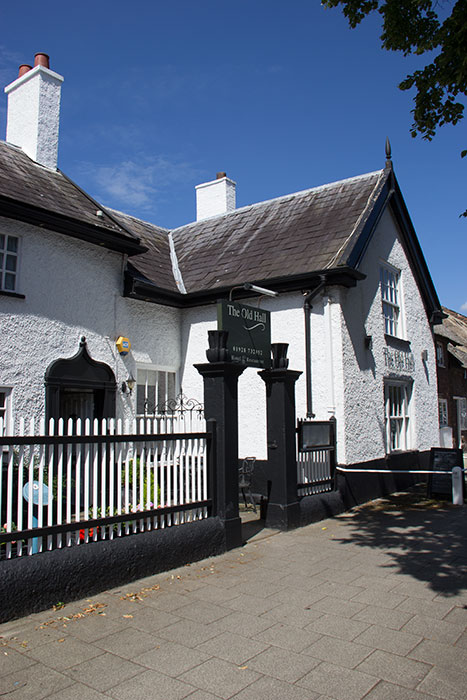 The pub is in two 17th century cottages. The front was rebuilt in the 19th century. Is only one of the many gorgeous pubs and tea shops in Frodsham. It's also a hotel.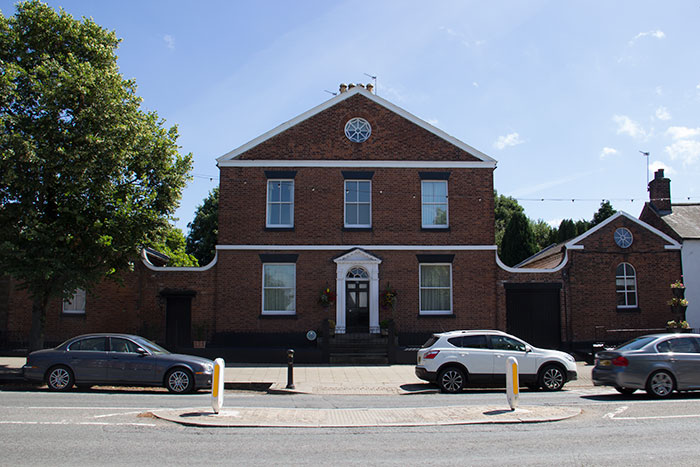 This Grade II listed building is from late 18th century and it was owned by John Urmston, one of the owners of Salt Works.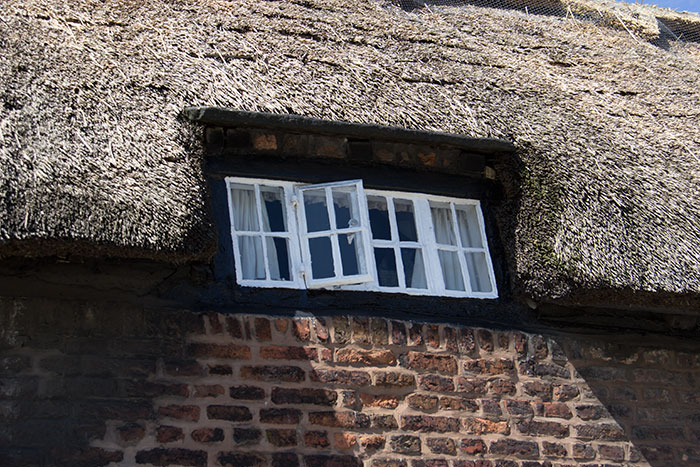 There are four original 17th century oak framed thatched cottages, really stunning. I love thatched roofs. There is a pictures of the cottages from 1880 and now they look exactly the same.
These beautiful cottages are close to another row of three thatched cottages from 1628. Now a tea room with a couple of tables outside. It's lovely, but it was obviously busy and I didn't take any pictures.
The Bears Paw Hotel was built as a Coaching Inn and mail collection point in 1632. It was named Lion's Paw, changing its name in the 18th century.
It is lovely, we will have to go back to have drinks or a meal as it's such a wonderful place.
Golden Lion hotel, built on an original burgage plot with records from 1631. This building is from early 19th century, but the cellars are believed to be older.
Cottages from 17th century, originally thatched with oak timber frames. Sadly the thatch was replaced, same thing happened with the building in the next picture.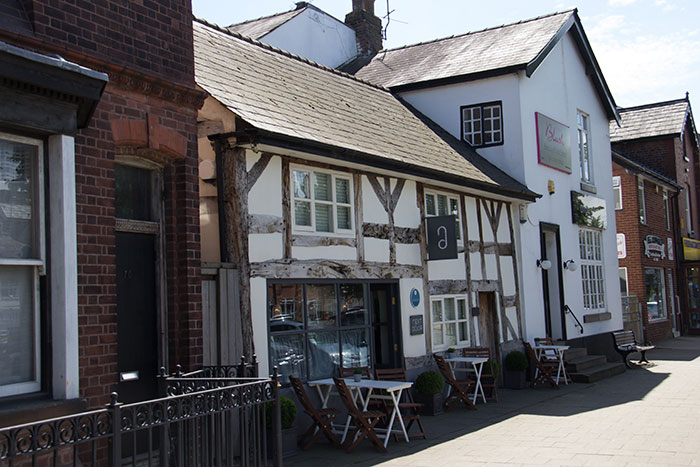 This is now a restaurant, as lovely and packed with character as you might expect.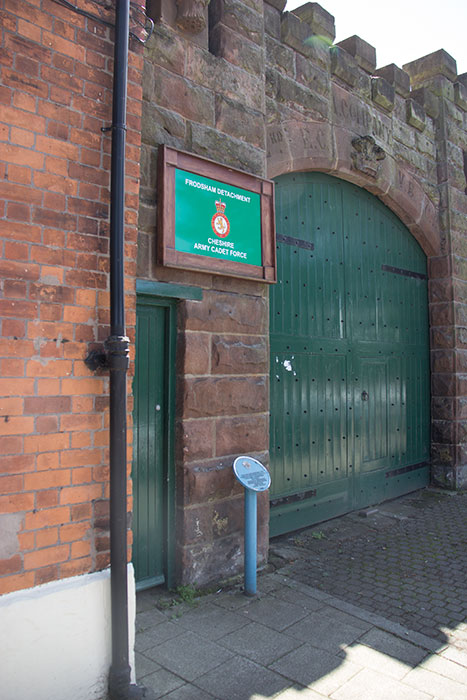 Commemorative Barracks Archway dedicated to the second Volunteer Battalion of the Cheshire Regiment, leading to the army drill hall. The hall was built in 1901 as a civic centre.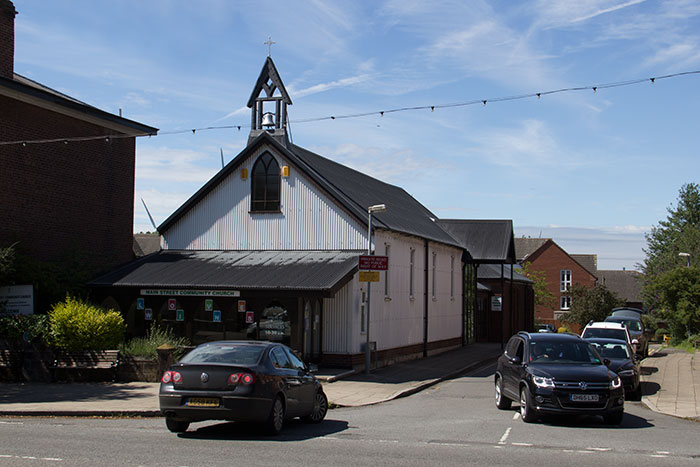 This church made me think of the old U.S. places of worship. It was built in 1870 as a parish church during the restoration of St. Laurence's. As it was popular, is now an Evangelical chapel.
Visiting an old market town like Frodsham on a sunny day, with plenty of time to see the shops and have a drink or a lunch at one of those beautiful pubs or a cream tea at the tea rooms is a lovely way to spend a day. It feels like I'm on holiday and it took less than 1 hour to get there.