In April I've attended a Jousting event for the first time and I loved it. On top of that, we went for a couple of days in Oxford. It was a busy month, mostly with decorating and tiding up everything. Besides, we had activities with Buckt this month as well and we enjoyed those a lot. Today we have another one planned, in the evening, and next week the last one from the April box. I'm going to do a round-up of these activities because they are really fab.
Festus is still willing to "help us" each time we are going into the garden, regardless if is for gardening or just putting some washing up on the clothes lines. Everything was thoroughly sniffed and the dog approved of the jars and plants.
You might remember from last month that Festus also loves doing DIY. As you can see, he did that again this month. The home office is renovated and everything is in place, even the smallest details. I love working from my new desk, it's amazing.
We've ended up behind a horse box with a lovely horse in it, so I've asked my husband to be patient. He drove at low speed behind the horse box for about 3 miles. Thus, I was able to take some pictures and have a bit of fun watching the horse. He (I imagine it was a he, but I'm not sure) was watching the cars that passed the horse box and was having a nibble between paying attention to the traffic.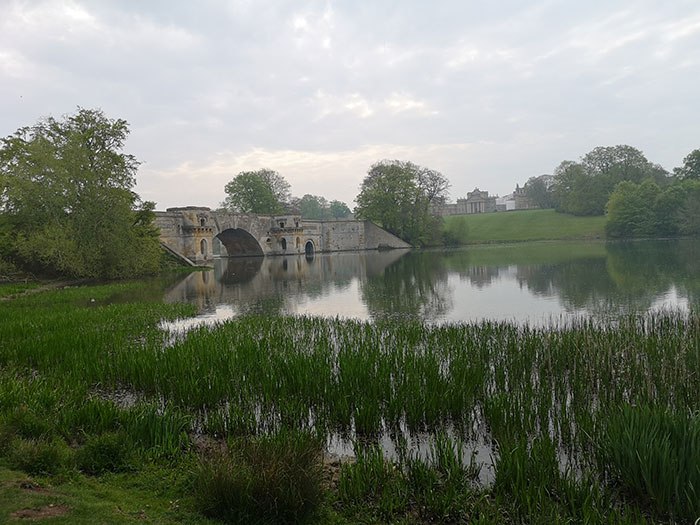 I mentioned Oxford previously. This time we went to Blenheim Palace and we got a membership, so we can visit it as often as we like in the next 12 months. It's a lovely place and, given the chance, I would like to visit it again.
Another gorgeous picture from our walks this month.
1. A bit of cake tasting at IKEA. 2. My home looked like a garden with three pots of lilies on the mantle piece. 3. Quick lunch at home: oven baked fries, tomatoes, and a vegan burger with kimchi, vegan mayo, in a brioche bun. 4. A few books borrowed from the library that day. 5. The foundation I'm using and that I blogged about. 6. Coffee date at a quirky place in Liverpool, Kazimier Garden. 7. Festus <3. 8. Breakfast, followed by a walk around Lymm. 9. Pizza for dinner at a lovely informal place in Liverpool. 10. Falling for Her Captor 11. Buckt 12. Working on my home office. 13. Salt, a new book I was reading. 14. Choosing Plant Pots. 15. Festus 16. Two activities in Manchester: laser tag and Breakout Manchester. 17. White and black chocolate plantain brownies. 18. The Designs of Lord Randolph Cavanaugh by Stephanie Laurens. 19. Snooker. 20. Liverpool Cathedral 21. Dundee cakes made to mark the Queen's birthday celebration. 22. Jousting Tournament in Leeds, at the Royal Armouries. 23. Festus. 24. An old pub in Oxfordshire. 25. Butterfly house at Blenheim Palace 26. Couple photo shoot for our wedding anniversary. 27. Chocolate egg. 28. Planting flowers in the butterfly pots. 29. The next book I'm blogging about: Pubs in and around the Yorkshire Dales by Paul Chrystal. 30. My breakfast.
These are individual Dundee cakes, made to mark the 21st April, the Queen's birthday. She likes these cakes a lot and I have to admit I love them too. I'm rather found of fruit cakes, and these are even better.
This month I've read some pretty amazing books, that I loved, like Salt, The Cut Out Girl, and Time Traveller's Guide. I also read Erebus and I didn't like it at all. I wonder why I bothered finishing it, but I did.
Books I've read in April, 7 in total:
The Scandalous Duchess by Anne O'Brien – 5 stars
Erebus by Michael Palin – 2 stars
The Cut Out Girl by Bart van Es – 5 stars
Falling for Her Captor by Elisabeth Hobbes – 4 stars
The Time Traveller's Guide to Elizabethan England by Ian Mortimer – 5 stars
Salt: A World History by Mark Kurlansky – 5 stars
The Designs of Lord Randolph Cavanaugh by Stephanie Laurens – 4 stars