On Saturday I had my first 5k race. I received an invitation for a Run or Dye event and I loved that opportunity. As I decided to run now, it was impossible for me to fund raise for a charity in a short time.
I arrived an hour before the race at Cholmondeley Castle, in Cheshire. Hubby took pictures with the phone and it was better, as the dyes can get into the camera and for sure that's not a good thing. Also, it's not allowed to take pictures with a DSLR as they have professional pictures for sale after the show. I didn't buy any as I think they are overpriced at £7.
There were a few stalls there with doughnuts, coffee and a Run or Dye stall with t-shirts, headbands and bags of dye.
I didn't manage to get a lot of running sessions before the race and I had to stop my daily
P90X3 workout because we were very busy. It didn't matter so much as the race is all about having fun and not about getting a great time.
I was getting ready for the race. The day before I bought a cheap white t-shirt and it was a great idea as it was stained with the purple dye. The others washed away nicely, but the purple one was still on it.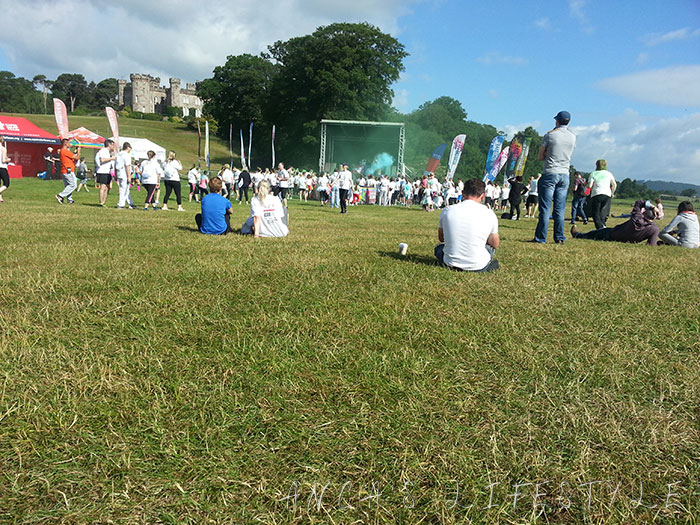 Before the race we made a warming up session, a little bit of stretching and clapping hands.

I was ready for the race, I went with the first batch of people as I was keen to run. I never ran 5k before, but I was sure I'll be the 1st one at the finish line.

The dye guns were tested before the race.
And then it started. If you plan to do a Run or Dye race, my advice is to keep your mouth closed when they are spraying dye or you'll end up like me, coughing the dye.

I pulled myself together and I started running, passing people… thinking "I'm going to win this".

The second batch of people ready for the start.

After 1k I knew I was not the first one or in the first 10 or even 100… 5k is a long distance.

The dog had some dye on his nose and that gave us an idea, to dye Festus.

That's me approaching the finish line. Loved the race, it was great to celebrate every kilometer with a splash of dye.

I was a little tired after the race.
The event finished with a dye battle. Hubby joined in, so I don't have a lot of pictures.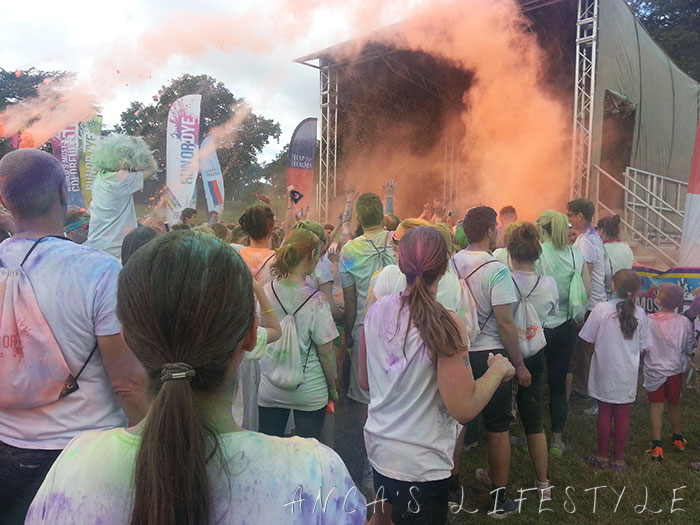 It was a great event, I had so much fun. We took home a couple of bags to dye the dog. Here are some pictures of us having fun in the garden.