May was a lovely month for us. My husband and I had some celebrations and it was wonderful. I finished 7 books, we had a great time at LightNight, like every year. At the end of the month I tried Sherry and it's one of my favourite drinks, so good.
I rearranged the spices and I like them even more. Now I have to decide on a new decal for my kitchen, to replace the "Life is short, eat dessert first". I might keep the motto, because I love it. It's been on the wall for 2 years, but I didn't get tired of it. My husband did a bit of DIY with Festus and now we have a new table in the garden. It's beautiful.
In May I went to a blog event and to BlogOn, preceded by a party in Manchester. It was great as last year, I bought my ticket for September, just in time, as now is sold out. There are a few other blog related things that happened in May, like winning a prize for my photo following the photo styling seminar at BlogOn. I can't wait to receive my prize, it's likely I will mention it on my blog. I also received an unexpected Thank you card from a company I worked with on a project. It was so nice from them.
I also managed to make the post about Photoshop, I was thinking about it, but didn't get the chance to actually write it. I enjoy sharing what I'm doing with you.
I met two lovely horses. They were eager to have a snack picked by us and loved the cuddles. I saw them when we were driving past their field. We stopped and we went to see them closer. We had no idea they are so friendly, so it was a beautiful surprise.
My husband and I went to Burnley and we had a wonderful time. We saw Towneley Hall and we had lunch at The Inn On The Wharf.
Festus and my husband preparing dinner. Sorry about the mess, now the microwave is hidden in one of the cupboards and we usually don't have so many things on the drainer.
We finished the month by going to see The Luminarium at Chavasse Park, in L1. It was a very nice experience and I would recommend it, if you are in Liverpool these days. The entry fee is £5 at the moment and there are only a few days left. I will blog about it in a couple of days.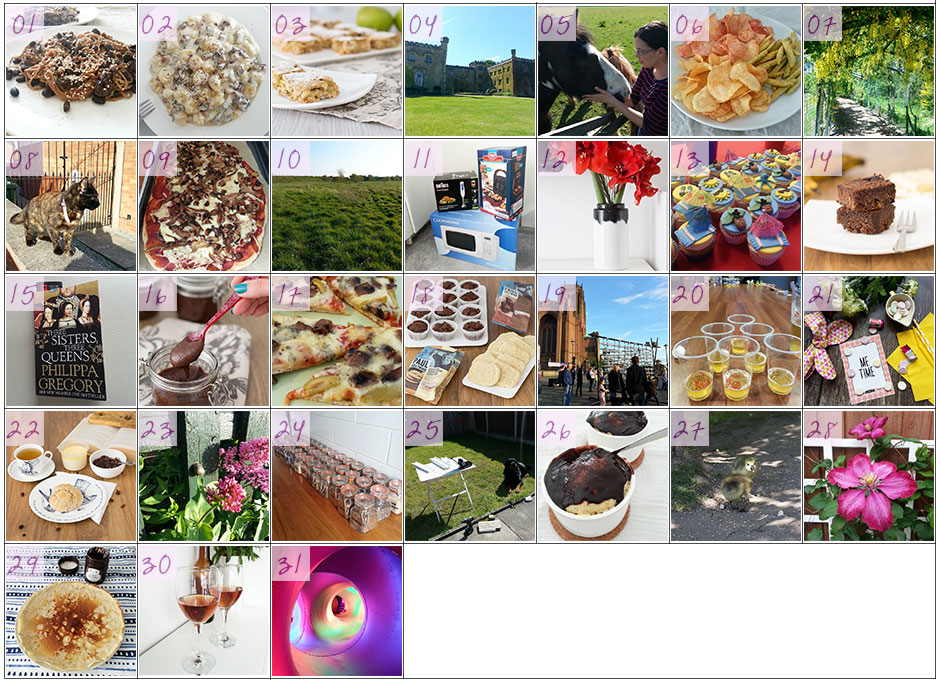 I cooked a lot, as I do and I baked desserts (I tried mixes from Paul Hollywood). Pretty much this is what I did in May. What did you do last  month?