Happy Maki is a vegan place in Brighton and it was on my list of places to go to in our holiday. One of the reasons I picked Brighton was the vegan and vegetarian restaurants out there. Despite me wanting to go to three different places, we only managed to go to two, as I bought a lot of vegan options to eat at "home" (as in the caravan). Happy Maki was the first place we went to and I'm so glad we didn't miss them. Here is their website.
The place is close to the city centre, in a good location, towards the Brighton Pier. They serve wraps freshly made on site with nori leaves. I had vegetarian sushi before, but not as a roll. I will make something similar at home, when I have the chance, as these were so good, and Brighton is a long way from home.
The rolls are made to order. It takes a couple of minutes for the rolls to be made, so there isn't a long waiting time.
We ordered two wraps and we've shared them. First one was Fully Loaded – crispy 'chicken', sweet potato wedges, roasted sesame seeds, avocado, cucumber, red pepper, teriyaki sauce. The second one was Rainbow Roll – grated beet and carrot, toasted seeds, avocado, cucumber, red pepper, coriander, spiced coconut sauce.
I liked both and I would gladly eat them again, but my favourite was the fully loaded one. My husband said the same thing, he preferred the fully loaded one as well. They also serve drinks and sides, but we were planning to go somewhere else for coffee and didn't get drinks. One thing is for sure, next time I'm in Brighton I'm going to stop by Happy Maki again for some delicious vegan rolls.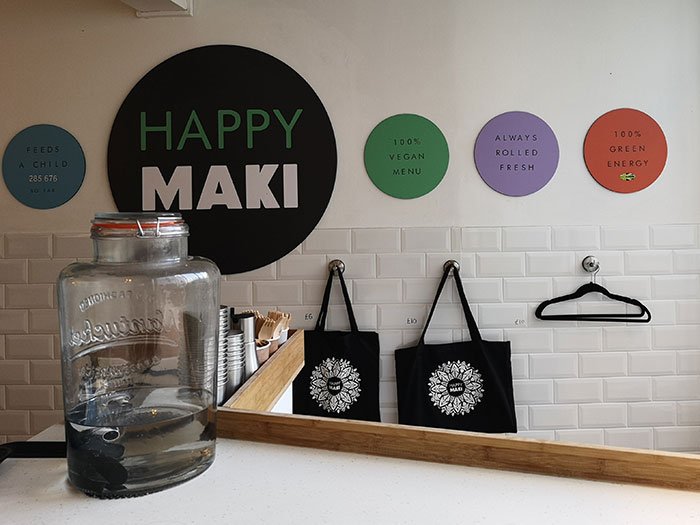 Happy Maki is on 8 Pool Valley, Brighton, BN1 1PN. They are close to a multi storey car park, close to the Brighton Pier and the city centre. There are a few tables downstairs for sitting, but the wraps can be taken-away too. They are open every day. They offer a 10% student discount.