Last month we've been to London and this time we went to National Portrait Gallery. We've started our visit by admiring the paintings in the special exhibition on Dutch flowers. The exhibition is free and is opened until 29th August. It's amazing, so do go and see the paintings if you are in London. We weren't allowed to take any pictures, so unfortunately I can entice you more.
I've been briefly to the National Portrait Gallery a couple of years ago, but I was in a hurry and I wasn't able to see the display. This time we allowed ourselves plenty of time and it was a great decision as it took us a little over 3 hours to visit the whole gallery.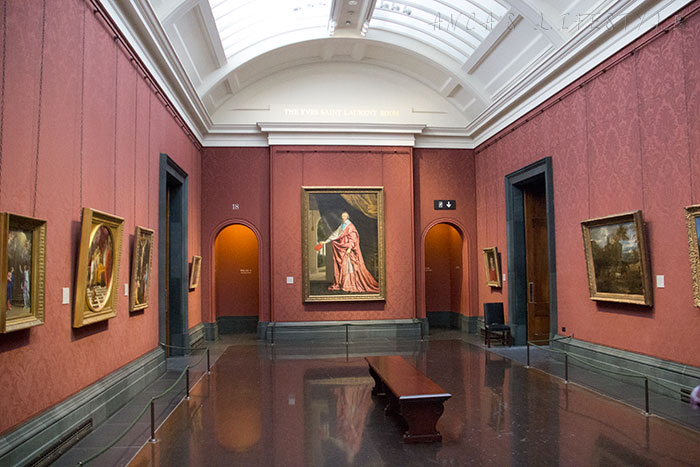 On the wall in the back is the painting of Cardinal de Richelieu by Philippe de Champaigne, painted in the 17th century.
I'll talk about a few of the paintings I liked. There are a lot of wonderful and impressive art pieces, but I had to pick only a few for this post.

Birds, Butterflies and a Frog among Plants and Fungi, 1668, by Melchior d'Hondecoeter. It's painted with precision and it looks beautiful and realistic.

Mountain Landscape with Lightning, around 1675 by Francisque Millet. The paintings shows travelers crossing the Alps. Not only the lightning looks realistic, but the thing that makes this painting even more impressive is that the painter never crossed them.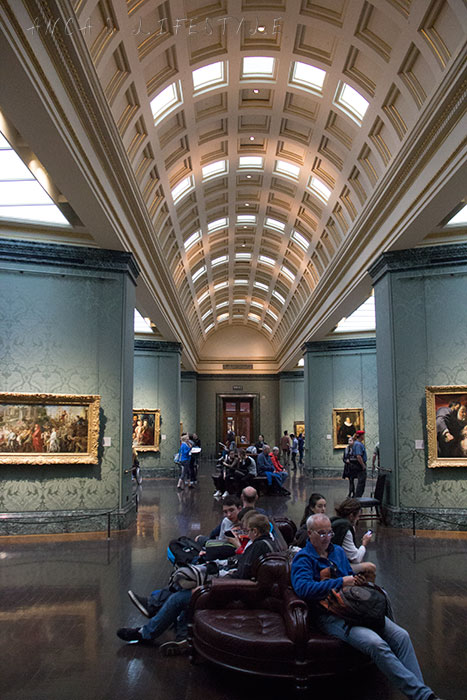 The Watering Place, about 1615-1622, by Peter Paul Rubens. It caught my attention because it was a peaceful scene. Another painter, Thomas Gainsborough saw this painting 150 years after it was painted and he created his own version of The Watering Place. Gainsborough's painting is on display at National Portrait Gallery too.

Equestrian Portrait of Charles I, 1637-1638, by Anthony van Dyck. Van Dyck was appointed as court painter in 1632. The portrait depicts Charles I as king of Great Britain. There is a tablet on the tree with "Carolus Rex Magnae Britanniae".

Madame de Pompadour at her Tambour Frame, 1763-1764, by Francois-Hubert Drouais. She was made Marquise de Pompadour after becoming Louis XV's mistress. The painting was finished a month after her death.

The amount of detail is amazing. I'm always fascinated by how they were able to create the depth of textures with a brush and oil.

A Girl at a Window, after 1799, by Louis-Leopold Boilly. It's the first black&white painting from that period I saw. It stands out, I loved it.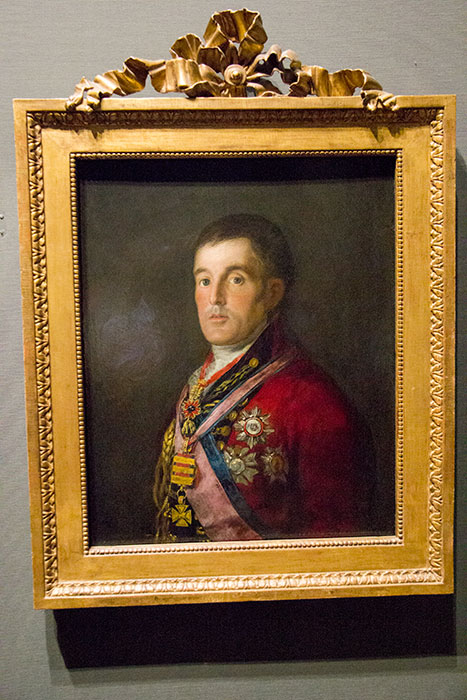 The Duke of Wellington, 1812-1814, by Francisco de Goya. The painting is depicting the duke's liberation of Spain from the French occupation in 1812. The rosette, the badge of the Order of the Golden Fleece and the Peninsular Gold Cross were added in 1812 and 1814.
A few of the galleries weren't open to the public, so there were a few more things I would like to see. My husband and I enjoyed the museum a lot and I would definitely recommend it.