I've decided to make a Christmas Gift Guide with Books for book lovers and not only. All the books I've included are non-fiction because this is what I most enjoy, but, at the same time, it's something that it's more likely to remain on the bookshelves of the people who might receive one or two of these books. Also, these are the kind of books people might want to check again. I shared reviews on my book blog Coffee & Books for the books that are marked with an *. Some of the books are review copies, but I didn't mark them in any way as I never mentioned that I will include these books in a Christmas gift guide.
Barack Obama's new book, A Promised Land, was published only a few days ago. I think it will be a very popular book, so it might make for a wonderful gift for someone who is interested in biographies.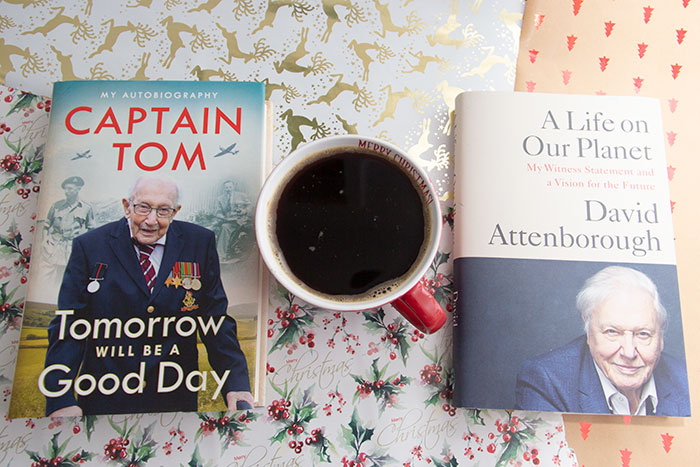 A Life on Our Planet by David Attenborough and Tomorrow Will Be A Good Day: My Autobiography by Captain Tom are two more books published this year which I believe are worth reading. I have both of them and I plan to read them during the holiday, when I will have more time.
Forgotten Slave Trade* was the first book I read by Simon Webb. It is an amazing book. My husband is reading it now and he enjoys it very much. The Analogue Revolution* followed and it was written in the same style. It is quite intriguing and interesting. Post-War Childhood* offers a different view on what life was for children in the 50s and 60s in Britain. He argues that it is not as it is presented today.
I have two more books to read by him, Suffragette Fascists and Secret Casualties of World War Two. I didn't include the last one because it is a bit too grim for a Christmas gift guide, although, depending on the interests of the receiver, this one might be a good gift idea too.
Webb is dealing with controversial topics and he is not afraid to go against the "norm" which is why I love his books so much. His books make one think.
I picked three books by or about women: The NHS at 70 by Ellen Welch*, Women's Lives and Clothes in WW2 by Lucy Adlington*, and A Force to be Reckoned With. A History of the Women's Institute by Jane Robinson. These three books are very different and this is another reason why I picked them for this gift guide.
The book on the NHS can be wonderful now, when we are all even more aware of how important it is. I imagine that not many know a lot about its history. While the Women's Lives in WW2 is another fascinating book which shows the kind of issues women had to deal with at that time.
30 Second series is just fab. I have two more books, but they are a different colour, so I didn't include them in the picture. I think all the books can be a great gift, depending on the interests of the receiver. The one on Einstein is the only one I didn't read from the ones I have and, in fact, it was a gift for my husband, for Christmas last year. I have on my shelves Fashion*, Elements*, Anatomy*, Physics*, Wine*, Literature*, and Climate*. As you can see, the topics covered are so incredibly different that make it really great.
Two cookbooks and a book on growing herbs are next. I tried recipes from both Speedy Bosh and Epic Vegan by Dustin Harder*. I also read and reviewed Growing Herbs by Holly Farrell. All these three books can make for lovely gifts for vegans and not only.
I hope you found a bit of inspiration in my gift guide. Are you going to buy books as gifts this Christmas?